Chapter 4: Owning my femdom slave
We were now at a deeper level. My submissive was becoming a femdom slave and was constraint at home unless I gave him permission to leave. I was the only person he was allowed to have contact with.
My submissive was not allowed to lick my pussy anymore. He wasn't worth it anymore, and I didn't want to give him this privilege anymore.
Instead, he could lick the closest spot: my asshole. I sneakily made him feel my pussy without really having it.
I understood that he suffered a lot due to my new behavior. To compensate that, he could still get pleasure from touching, massaging and licking my feet. The next step would be to take off even these little gratifications.
All of a sudden, I stopped any physical contact with my submissive.
By completely losing body contact with me, he lost the sensory gratification I was giving him (touch, taste, and smell).
Our life was so full of routines that talking to him was becoming unnecessary. To him, a gaze was enough to understand what I wanted.
I obliged my femdom slave not to speak anymore, if not requested. Consequently, by losing spontaneous verbiage, he lost a huge stake in his right of expression. It was simply unnecessary.
This had not been an easy step. As a consequence, I had to be severe and punish every single mistake with the right punishment method. Discipline became a must in my femdom relationship.
Punishment and discipline
I introduced an object called "paddle", and my femdom slave was extremely scared about it.
I was using Skinner's operant conditioning as a learning process. The reward for my sub was: a hot meal in a bowl, a moment of rest, the view of my naked body, the possibility to ask me something, and a few more options.
Time went by, and my sub completely stopped to touch, smell or taste my skin. The only thing he could do was to look at me and get pleasure from that. I loved this, and I wanted to exploit this even more.
First of all, I forbid him to look me directly into the eyes. He could do that only as a reward, or when he obtained my permission.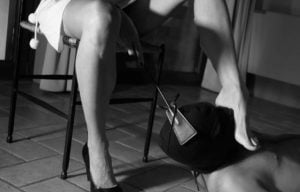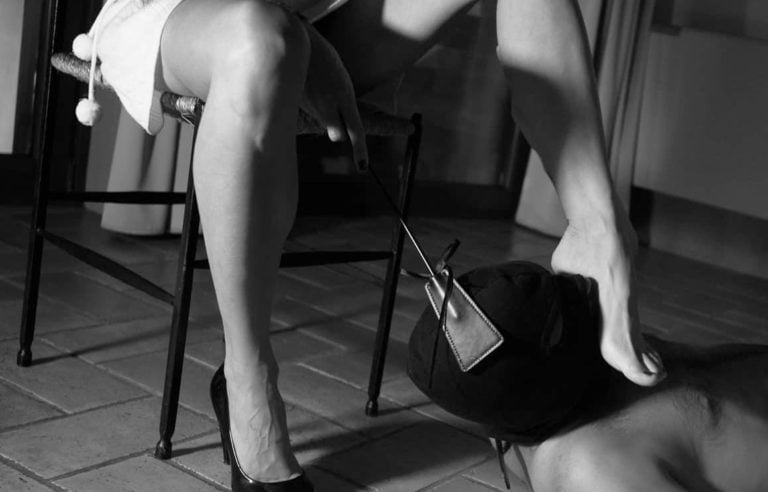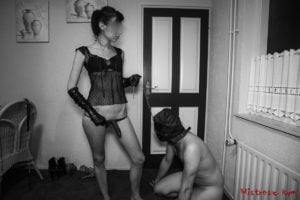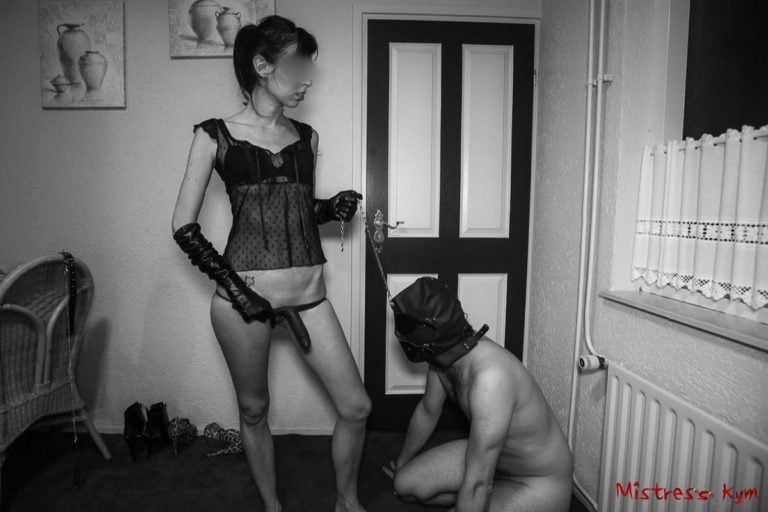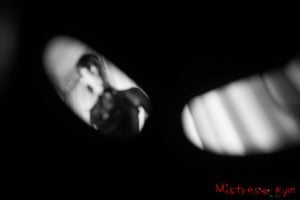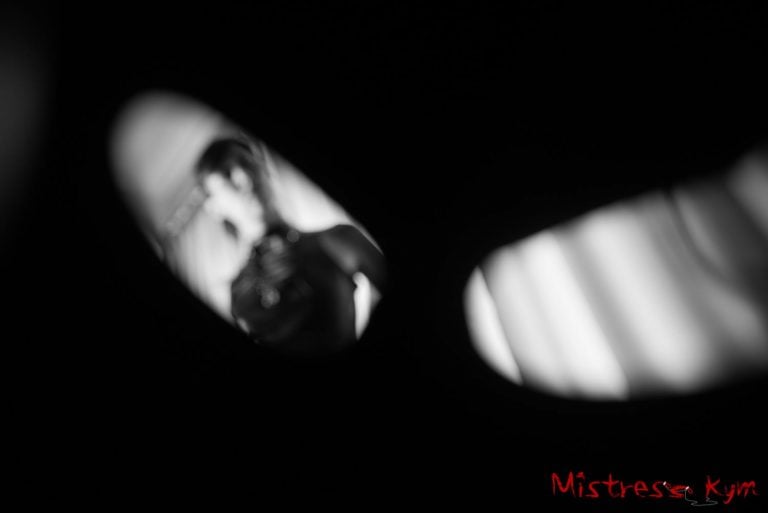 My sub knew that by losing his gratification from his last and most important sense, he also definitively lost any loving and emotional contact with me.
In addition to that, my plan included also the need of having my submissive to completely lose his identity as a person.
This is why I ordered him to wear a full-face BDSM mask.
His identity was severely touched and he gradually stopped to see him as a person.
I later realized I was also looking at my masked sub differently. I wasn't considering him a sub anymore, but just an object that was there just to please me.
Using him as human furniture
I figured out that I could use my sub as a moving object or furniture. So, when he was not serving me, I could increasingly use him as a table, chair, candlestick,… or whatever I wanted.
I had a dungeon built in my basement. One day I decided to purchase a cage to lock my submissive when I didn't need him, or when I simply didn't want him to be around.
I ordered him to think of me as the only person in his world.
I wanted to feel his love for me when I locked him in the cage, after switching off the lights. In addition to that, I wanted to feel his breath, his gaze, his attachment to our femdom story.
But I needed one last thing to make the ownership complete.
As a result, I ordered a blacksmith to create an iron bar with the text "property of MK".
I left the iron bar into the fireplace for a long time before I ordered my sub to join me in the living room.
Initially, I made myself clear: from that moment on, and until the end of his existence, he didn't have to worry about anything anymore. His life was mine, and I would have taken care of everything for him: Finally, I owned him completely.
This life-lasting mark was the symbol of my ownership, my gift for him. From now on, in every moment of his life, my submissive would remember that serving me is his only life purpose. He understood that, a gaze was enough.
I asked him: "Will you unconditionally love me and surrender to my power?". He answered, "Yes My Mistress, I will".
Therefore I made him crouch on the floor and marked him on his naked buttock. He screamed like a pig and felt on the floor. Then murmured "I love you, My mistress".
Afterward, I got closer to him and whispered to him "you have been my boyfriend, a butler, a servant, a 24/7 devoted submissive. Welcome to your new role femdom slave. I love you."
In conclusion, my transformation was over. I was literally owning another human being. Completely.
My femdom slave accepted his new life, which consisted of obeying and naturally satisfying my desires and needs. He understood that this was the only way to stay close to me. Serving his Mistress was the only goal in his life.
To sum up, today nothing changed but the fact that we are telling this story to the public through this website.
Enter my World and Get Instant Access to:
You will get access to
Authentic Femdom Story

220+ videos up to 4K UHD

1'300+ Hi-Res Photos

Fast Stream on any device

Weekly Updates

Video Customization
and...
Search, Filters & Favorites

Mobile & Tablet Compatible

Multiple languages

256-bit Securely Encrypted

24/7 Friendly Support
Authentic Femdom Story

220+ videos up to 4K UHD

Fast Stream on any device

1'300+ Hi-Res Photos

Weekly Updates
Video Customization

Search, Filters & Favorites

Mobile & Tablet Compatible

Multiple languages

256-bit Securely Encrypted

24/7 Friendly Support